Last week showed me yet another example of why true enthusiasts are absolutely necessary in the world of music, or for that matter, the arts in general.
Sundsvall is one of Sweden's largest municipalities. It is located in the middle of the country, or, depending on who you ask, in the lower half of Norrland – Northern Sweden. According to Statistics Sweden, Sundsvall is the third most populous municipality in this part of the country.
For the past ten years (apart from last year, for obvious reasons), an annual guitar festival has been a part of Sundsvall's arts events on offer. The enthustiast and primus motor behind the festival is Yamandú Pontvik: baritone soloist, composer, choral conductor and bandleader. While not a guitarist himself, he is an avid guitar and string music enthusiast.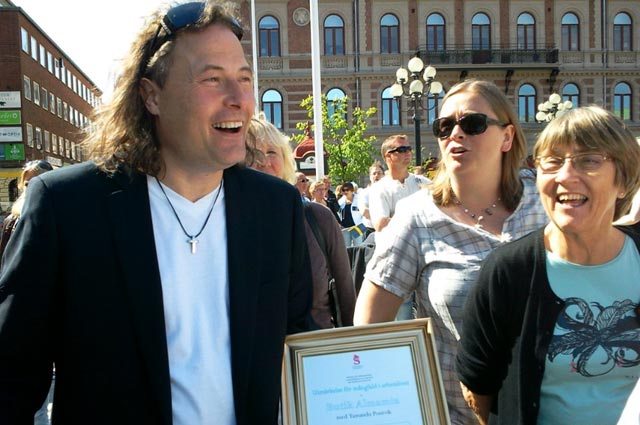 This year's festival featured three brilliant concerts featuring musicians from Sweden, Poland and Spain. Opening the festival on Thursday was The Gothenburg Combo, consisting of guitarists David Hansson and Thomas Hansy. Affirming a review quoted on the duo's website, they really did "play classical music with pop appeal, exuding an irresistible life-affirming sense of humour". More than 15 years together have certainly fused them together into a single musical body, playing quite literally as one. Their programme showcased the duo's repertoire, including some very recent projects. Three medleys, each centered around a specific period in Sweden's history, were composed by the duo for an arts exhibit, The History of Swedish Music, commissioned by the American Swedish Institute in Minneapolis. The exhibit itself featured several more medleys besides the ones performed last week.
Additionally, the duo performed two original compositions. One of them, Nomad (7), was a preview of the duo's upcoming album and part of a multi-part musical work called Nomad. This format, bringing to mind progressive rock (something the duo readily admitted in one of their presentations in the concert), is present in several other of the duo's compositions, including the 2017 album Seascapes: 20 000 Leages Under the Sea, inspired by Jules Verne's eponymous science fiction novel.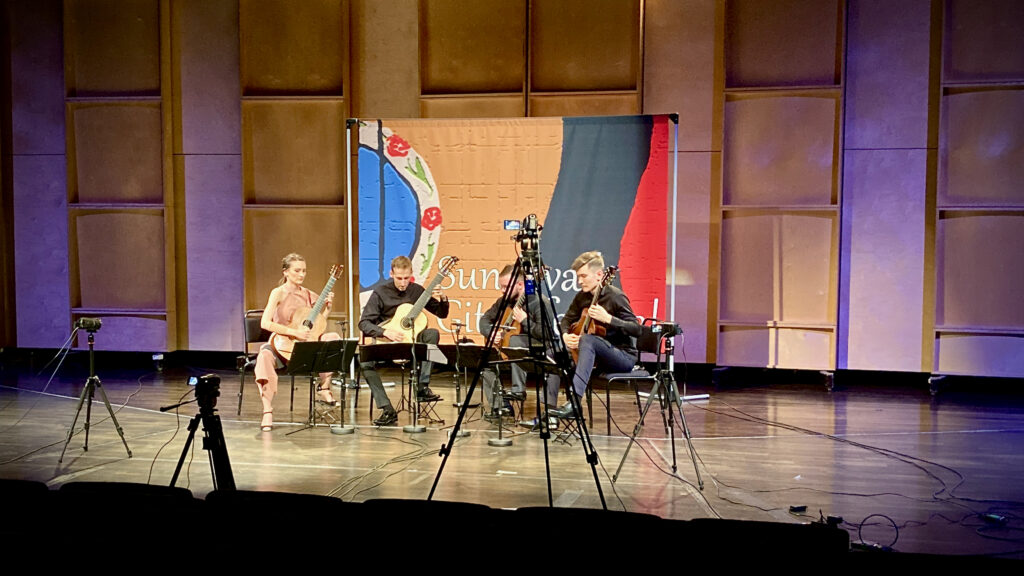 Friday night featured guest musicians from Poland: the Erlendis Quartet. On their website, the quartet explains their name ('erlendis' is apparently Icelandic for 'overseas') as reflecting their dedication to exploring beyond the familiar guitar quartet repertoire. And how. After having been roundly impressed by the Gothenburgian duo the day before, the Polish quartet blew me away by playing just as tightly, as thoroughly and carefully woven together, but with twice as many players. And just like Thomas and David had, the four Poles performed wearing their enthusiasm, passion and dedication on their sleeves, not only imbuing every note with skill and musicianship but proudly and unabashedly sharing their own enjoyment with the audience. Some undoubtedly prefer musicians to act more reservedly and, for lack of a better word, proper, but in my opinion the sheer joy and care displayed by the musicians made me more engaged in their performance, not less.
Erlendis' programme was similarly encompassing, opening with Bach's Prelude and Fugue in C-sharp minor (from The Well-Tempered Clavier), followed by two of Dvořák's Slavonic Dances. Later on, they played one of Mozart's Divertimenti, and after that a composition by Leo Brouwer, a Cuban composer, conductor and also a guitarist himself. In presenting the Brouwer piece, the quartet noted that it was the only part of the programme originally written for guitar quartet. All the other compositions had been arranged by the quartet. After the last official item on Erlendis' programme (an excerpt from Ernesto Lecuona's Suite Andalucía played with great fervour), they treated the covid-19-sized but no less enthusiastic audience to an irresistible encore (introduced by one of the members with the sentence "we look very serious, but we are also very funny people"): Polka from Dmitri Shostakovich's satirical ballet The Golden Age.
Unfortunately, due to previous engagements, I missed out on the festival's third and final concert, although I did get to meet its two stars very briefly: conductor Iñigo Pírfano and guitarist Anabel Montesinos. Performing together with the Nordic Chamber Orchestra, the main number of the concert was Mexican composer Manuel Ponce's Concierto del sur, "concerto of the south".

At the time of writing, both Gothenburg Combo and Erlendis Quartet are still available to watch online. If you haven't already, you definitely should! (And if you already have, perhaps watch them again!)
Finally, a note about the headline of this post. Enthusiasts have always, and will probably always play a crucial role, not only in the world of performing arts. But what appears to me as particularly frustrating when it comes to music and other artistic endeavours is how enthusiasts, overworked and underpaid (and too often undervalued), are absolutely necessary as they remain, also, perpetually underfunded, at least (but likely not only) in Sweden. My good friend Olof, whose annual concerts in the Gothenburgian archipelago not only employs musicians but also means up-and-coming composers like myself get more opportunities to have new works written and premiered.
Speaking of which: If you are on or around Orust Saturday July 10th, you should come to the concert at 18:00 in Flatö Church where one new composition each by myself and my good friend and colleague Gustaf Blix will be premiered!
I and Gustaf have each written a septet. Gustaf's Triptych for Seven Instruments is scored for two violins, viola, violoncello, double bass, piano and bassoon. My own Books on a Bookshelf calls for violin, viola, violoncello, double bass, clarinet, horn and bassoon. I've written more extensively about my own septet in two previous blog posts, on May 10th and May 17th.
At the time of writing, no ticket information is available. I will update my blog as soon as I get more information about tickets, reservations, etc.