Norway celebrates its Contitution Day and my latest work, the septet "Books on a Bookshelf", is finally finished!
To be honest, I had forgotten how much work preparing a score and parts actually involves, and how long it takes. That also says something about how long it has been since I last finished a more substantial musical work. It's been some time coming, but nevertheless it feels exciting (and, if I'm still being honest, terrifying) to have another one finished now.
It's been several months in the making. I was approached by a good friend of mine in January. Every summer, going back a fairly long time now, he has been arranging annual concerts on Flatö, an island in the Gothenburgian archipelago, hiring musicians and deciding the programmes together with the performers. He also regularly commissions music from young composers. Twice before, he has commissioned pieces from me, and this would become the third time. The charm, as it was.
The impetus, then, was my friend calling me up back in January, but the idea behind the piece dates back several years. Another friend of mine, a local bookseller whose family I hold very dear, suggested half in jest and half in earnest that I should write a new take on Modest Musorgsky's classic piano suite Pictures at an Exhibition. Of course, this new version should be based on books rather than paintings. He even suggested a name, although it's kind of an obvious one: Books on a Bookshelf.
My friend the bookseller reminded me every so often about his idea, asking if I'd made any progress on the bookshelf. While I liked the idea, I never gave it much thought until I was commissioned by my friend and patron to compose a new work to be played at the same concert as, among some other works, Beethoven's famous Septet in E-flat major. The instruments available were in other words baked into the commission. A few weeks after I'd accepted the commission, I decided that this was as good a time as any to assemble the bookshelf, so to say.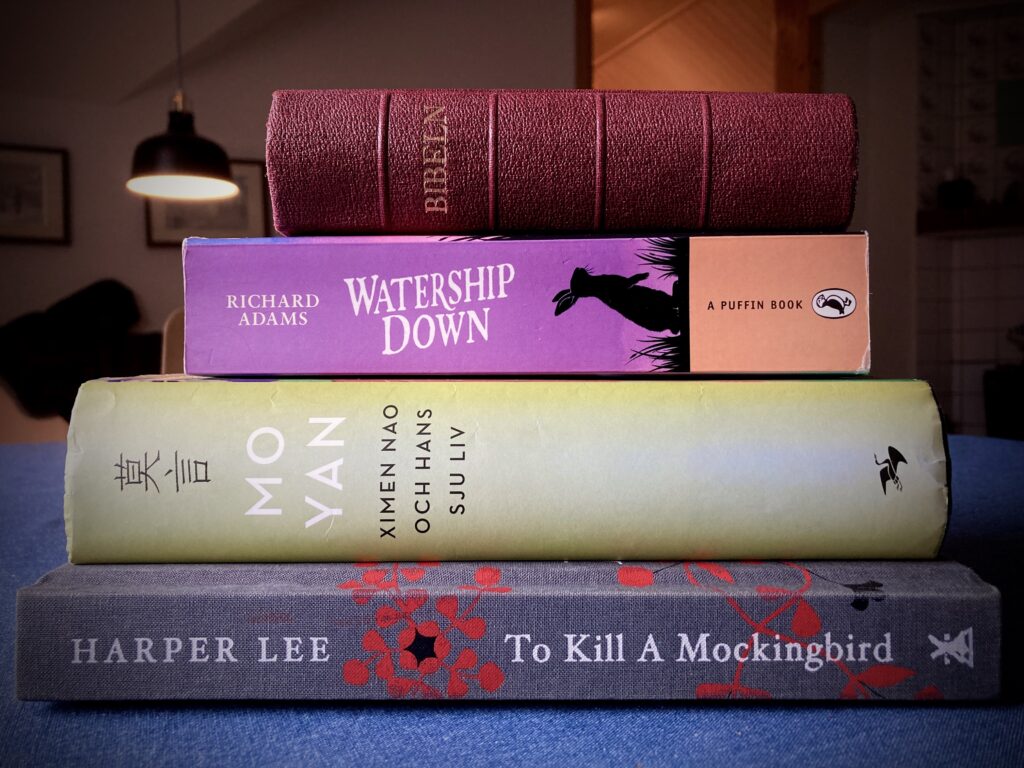 Choosing which books to include was not a straightforward process. I knew the finished musical work needed to be at most 20 minutes long (a duration I ended up exceeding by a couple of minutes anyway) so I had to either keep the number of books low or make the movements incredibly short. I ended up with six books and six corresponding movements, each around 3–4 minutes long.
The Bible is perhaps not an obvious choice for a project like this. Nevertheless, it is arguably one of the world's most important and influential books and its texts have formed the basis for countless musical works, including of my own making.
Watership Down by Richard Adams is a beautiful story that I know in several ways. I have watched the 1978 animated film, I think I still know Mike Batt's classic song Bright Eyes by heart, but my greatest love for the book comes from reading it in a book club with a group of friends.
Life and Death Are Wearing Me Out by Mo Yan (its Swedish title, "Ximen Nao and his seven lives", refers to the main character and his various reincarnations) came to my attention when the author was awarded the 2012 Nobel Prize in Literature. I still haven't read anything else by Mo Yan, but I really should, because this is truly one of my favourite novels, an overwhelming and gripping story that literally makes me laugh as well as cry.
To Kill a Mockingbird by Harper Lee is a classic of 20th century literature. This beautiful, cloth-covered edition comes from the same book club where I (re-)read Watership Down. Reading and discussing it together with friends was lots of fun and interesting and definitely added to my understanding and appreciation of both books.
The Handmaid's Tale by Margaret Atwood is today perhaps best known as the long-running TV series starring Elisabeth Moss. It is a depressingly topical book in a time when so-called "traditional values" are used by closed-minded people to persecute, control, degrade and even kill those who disagree.
Momo by Michael Ende (also known as The Grey Gentlemen) was recommended to me many years ago by my girlfriend at the time, who considered it one of her favourite books. After reading it myself, I understand why. It, too, has an uncomfortably topical plot. As philosopher David Loy and literature professor Linda Goodhew remarked in a 2002 article, "one of the most amazing things about Momo is that it was written in 1973".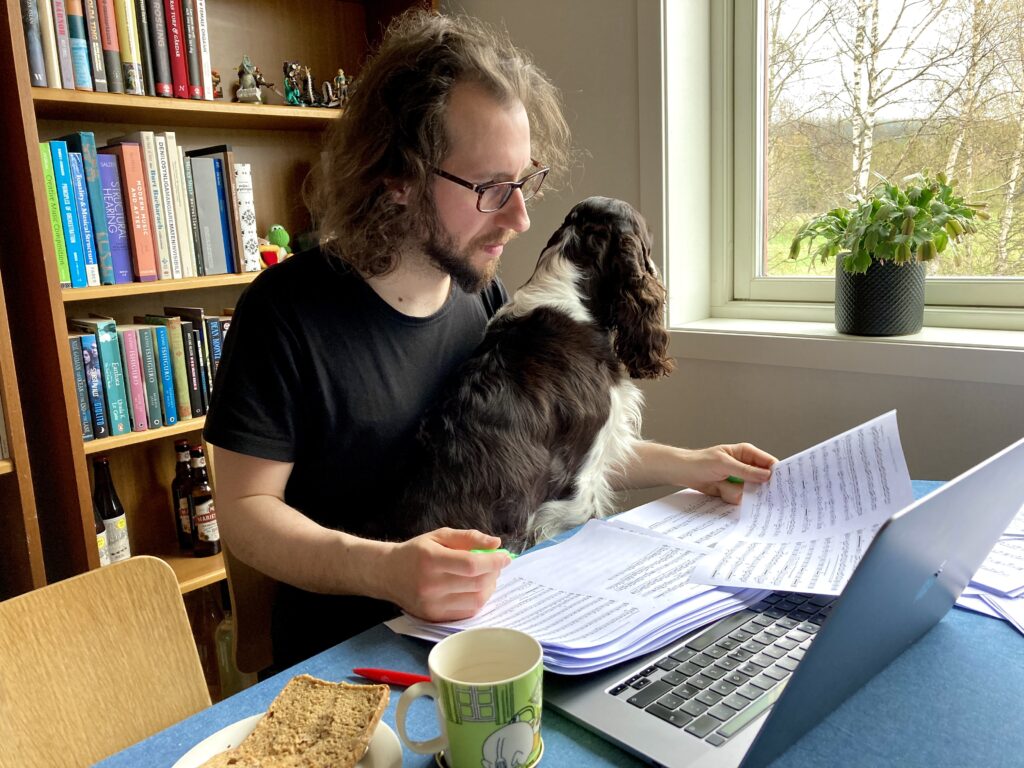 One of the things I've tried hardest to instil in my composition students is to proofread their music thoroughly. Not just on the computer, either, but on paper as well. Preferably more than once. If you have the time and the opportunity, it's even better to get someone else to proofread your music as well, besides doing it yourself of course. It's incredibly useful both to proofread yourself, because you know your own material best, and to get someone else to do it, because they aren't blind to the material – like you inevitably are after having worked on it for a long time.
Now my work is at least mostly done. Or, so I hope. I've tried to predict where questions may arise or where my notation isn't entirely standard or immediately readable and have compiled some performance notes explaining these. But if the musicians want to ask about anything more I need to be ready and able to give them answers.
Next week, I'll describe the work's structure in a little more detail. Wrapping up this post, I want to mention the music of William D. Drake, an English musician, composer and singer-songwriter. I only recently discovered him myself and absolutely fell in love with his music. Fans of British progressive rock bands like Gentle Giant, Gryphon or IQ should definitely check William and his music out.