Still a little tired after Saturday's marathon working with this year's edition of the local contemporary music festival Nymus Live in Härnösand. Weeks of preparation paid off handsomely in the form of a diverse, all-day programme with no less six concerts featuring various flavours of contemporary music.
The afternoon started off with a kind of meditative, minimalist pop featuring the rather ironically titled trio Broken Quartet. They performed a number of songs they have composed for a brand new museum of sawmill industrial history that opens this June in Sandslån. The songs will be part of a sound installation spread out across the museum's various exhibit rooms, so hearing them like this in their "original form" was a treat. The trio's unorthodox but effective setup was electric guitar, a range of synthesizers and a vibraphone with pedal effects. The music wasn't complex or hard to grasp, but there was a distinct sense of musicianship and several small but effective composition choices that elevated the music from being dull and predictable.
The next act was the first of two solo performances. Cecilia Gelland is perhaps primarily known as one half of the world-renowned violin duo Duo Gelland with hundreds of commissions and premiere performances and a number of recordings to their name. Here, Cecilia played a solo programme on viola, an instrument she handles as artfully as the violin. In between the pieces, she recited poems by her father Bertil Gelland from a poetry anthology released last autumn. This was mostly the same programme as she performed during this year's Swedish Spring Music (which I also mentioned in an earlier blog post); in fact, I specifically asked if she was willing to repeat that programme in Härnösand because I was so entranced by her performance. And boy, did she deliver yet again. Absolutely spellbinding.
Following Cecilia was the accordionist Irina Serotyuk whom you surely know by now as I have mentioned her several times before in this blog. I did not know until a only few days before the festival that she was going to include my accordion suite in her programme, which of course was a delightful surprise. It was her third time performing the suite and it was wonderful to hear how her understanding of the piece is maturing. I also look forward to writing more original music for the accordion (which I am about to, in fact, but more on that in a bit!) and not just arrangements. Irina's programme was itself a kind of microcosm of contemporary music, featuring both more experimental pieces like Far From the Crowd by Karmella Tsepkolenko and …the space that lies between them… by Sam Cave as well as more traditional ones like Franck Angelis' Boîte à rythme and Volodymyr Zubytskyj's Prelude and Toccata. (Mine is a bit both, as you might expect if you know me and my music.)
The evening concerts started out with Aleatoriska ensemblen, "the aleatoric ensemble": an improvisation music oriented quintet that was formed only last year and to my mind gave its best performance by far this time. I should say that I am generally not a fan of experimental improvisation-based music as it is generally too abstract for me. To me, it more often than not sounds like a group of people each making noise entirely separate from each other resulting in unpleasant cacophony. This, however, was different. There was an obvious connection between the five musicians here in all three pieces they performed: Quintessential by Pauline Oliveros, Alea iacta est by Björn Eriksson and Fridfull – Spännvidd ("peaceful – range") by Jörgen Häll. And the performance never devolved into what I often perceive as simply unrelated noises.
Wrapping up this jam-packed day was two audiovisual performances by members of the art group Nonagon. First of them was Egor Kaleshchuk, performing under his ridiculously unpronounceable artist name "Vokeebokæybgo Lochtyblchvvaii", giving a sneak preview of material from his upcoming solo album release. The music was aided by visuals by non-Nonagon-affiliated visual artist Emi Stahl. Following Egor was Tove Nowén and Annie Tådne performing UNEARTH, which they describe as an atmospheric canvas of sound based on edited recordings and improvised voice loops combined with "eco-centric" visuals portraying "speculative flora and fauna" in "familiar, yet strange and surreal landscapes". And lastly, Ida Davidsson performed her work CORE which she describes as an immersive audiovisual performance "exploring organic movements and complex patterns through reaction/diffusion together with ambient sounds".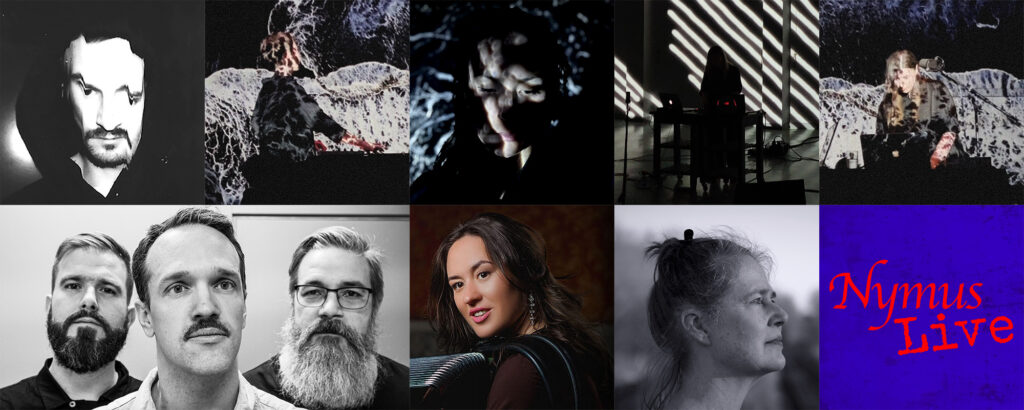 Quite a day, one could rightfully say! And we got a couple of brand new listeners as well who had never heard of either these artists or the festival itself before thanks to a short interview I did for the national public service radio. I overheard some people talking in the foyer about how the news clip had gotten them curious about what we were doing. I truly hope they left satisfied, or at least that we didn't scare them away. In no way do I expect everyone to like the music we present, but at least I want our audience to understand it – at least enough to truly be able to decide whether they like it nor not, and not just dismiss because they don't "get it" and feel like they aren't welcome because of that.