As you might have noticed, I posted nothing on my blog last week. Both the two past weeks turned out terribly busy, to the point where I didn't have the time or the mind to sit down to write even a short post. For shame! I do at least have plenty of exciting things to talk about in this week's post, and even more to come later this month.
After a year's hiatus (that was supposed to be a clean break) I am now back to teaching the composition class at the folk high school in Härnösand. I have stated it before and I'll happily do so again: I really do love teaching music. The feeling you get when you manage to inspire enthusiasm and curiosity in a class is very rewarding. Additionally, and I don't mean to come off as pompous, I think of it as an important duty, almost, to spread an appreciation for music to others. Not just one or two particular styles or genres of music, but all kinds.
Apart from teaching the composition class again, this autumn I was also asked to take over the Western Music History and Choral Conducting Intro classes, respectively. I felt more than a little nervous ahead of the first sessions of both, but I'm relieved that they have both gone rather well so far.
Last week's first music history lecture in particular was a success. One of the students even told me afterwards that it had been the most interesting music history class she'd attended yet. (Mind, she's coming straight out of high school where they likely have little to no time to properly dedicate to the subject, so the bar is probably unfairly low. But still!)
HOWEVER.
Last week's most exciting event was putting the last touches on my brand new Suite for Accordion! This is truly exciting to me as it is my first proper composition for this underappreciated – as I am realising – instrument.
The Suite's world premiere will be in Tallinn on October 26th in a programme that also features music by such musical titans as Giaccomo Puccini, Domenico Scarlatti, Swedish-American Daniel Nelson and others. Quite a distinguished company to be among!
And if that wasn't enough, the concert is held at the Kadriorg Art Museum in Tallinn, originally a palace constructed in the 18th century by Tsar Peter the Great as a summer residence and named Kadriorg in honour of his wife, Catherine I.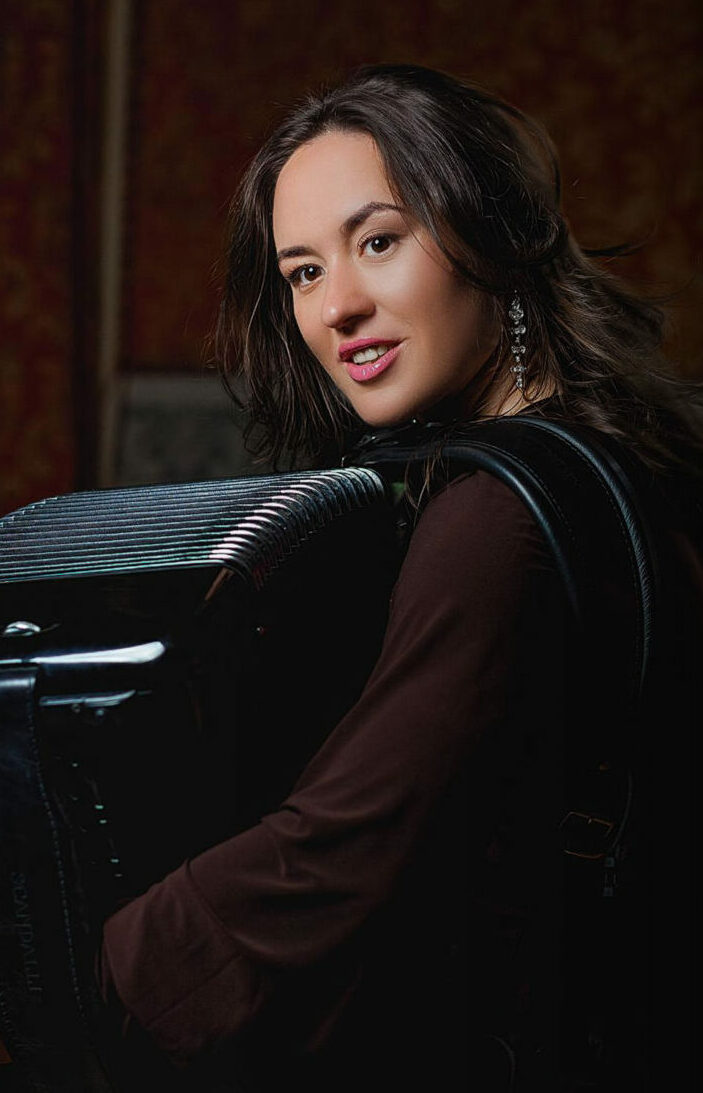 Composing the three-movement suite took three months, almost to the day. I did have some early sketches that date all the way back to when I first met Irina in March, when I presented her concert during this year's Swedish Spring Music festival in Stockholm. That concert, incidentally, is still available to watch online and you can read more about the programme here (in Swedish only).
The first movement is abstract, almost impressionist, with airy, dissonant chords swaying to and fro and liberal use of making air sounds with only no keys depressed. This actually comes from one of those earliest sketches, when I was trying to picture the sound of the instrument and mentally acquainting myself with how it works. I came, perhaps naturally, to think of breathing – in and out, in and out – and that mental image gave the overall shape of the movement.
The second movement is actually the one I finished last, partially because Irina asked me to focus on getting the third (and most difficult) movement done first, and also because completely opposite to what I had first thought, it was the hardest one to write.

As returning readers of my blog, as well as those who know me, are aware I am a fan of combining older musical forms and ideas with contemporary musical sensibilities. So I decided fairly early on that I wanted to try to write a Passacaglia, a musical form that originated in the 17th century in Spain. It is typically based on a repeated bass line, which in my case is an eight-bar melody about which a friend of mine exclaimed "sounds like Shostakovich!". (I took it as a compliment.)
The third movement is also the longest and, on top of that, the most challenging. It is acrobatic, flashy, vivacious and varied so naturally, I had to call it a Toccata. Its main idea is an arpeggiated chord sequence not entirely without influences from American minimalism. This display of virtuosity is contrasted by a middle section that has some elements of Finnish tango and melody-writing that I would like to think is part Bartókian crunch and part ABBA-like earworminess.
I regrettedly won't be able to go attend the premiere in Tallinn myself, but that is because I have a concert of my own planned the very next day here in Sweden. More about that project in next week's post!