It's been more than three weeks since my last blog post and so much has happened. The past two weeks have mostly been spent working with this year's instalment of Berwaldhallen's annual Baltic Sea Festival. I have also wrapped up the power metal project as well as made great progress on a project I have not discussed yet on this blog.
I am sitting on the board of a local concert organiser in Härnösand, Föreningen Nymus. Our work is heavily dependent on public and state grants which constitute the absolute majority of our financing. We have to apply for these grants annually and for this coming season, we were awarded a fairly substantial sum to realise a project idea we had been discussing this spring: to invite artists not only for giving regular concerts, but also to perform in schools or even do workshops with school children.
A few months ago, when the question was raised, I offered to lead this project. I have some previous experience working on music projects in grade schools, and on a more personal level also really want to see this investment become a success. All of us in the organisation do, but the issue of reaching school children in a constructive way is becoming increasingly important to me.
The first event is already in late November, with the Stockholm Saxophone Quartet both collaborating with composition students at the folk high school in Härnösand and doing a workshop with grade school students in Härnösand, wrapping up their visit with a grand public concert where they will both perform works from their standard repertoire as well as premiere compositions by the folk high school students, which I believe they have started working on already.
Next up is the Gothenburg Combo, a brilliant guitar duo based in Gothenburg, which is scheduled to visit sometime early next year. I saw them perform at the Sundsvall Guitar Festival two years ago and was quickly smitten by their brilliant musicianship and contagious enthusiasm. I still need to book a venue for the duo's public concert, but I have paired them with a grade school with dedicated teachers that look forward to welcoming them.
More artists and collaborations are in talks with already, as well as initial plans for what I hope will become a smashing finale to end the season and the project itself with.
Having handed in my finished arrangements to the power metal band, now I can only wait – like you, dear reader – to hear the finished result sometime later this year. Looking back on this process, it was very frictionless: the band members had little critique overall, only remarking on details and not my broader artistic choices. It felt like a good match between artistic sensibilities, probably helped by the fact that I used to listen to various kinds of metal all the time when I was younger. I still do, if a little more sporadically. For instance, I currently enjoy my teenage idols Blind Guardian's recently released album The God Machine with its Neon Genesis Evangelion-evoking cover artwork.
In other news, I had a wonderful time working with four different concerts during this year's Baltic Sea Festival, which also celebrated its 20th anniversary. As I have many times before, I worked on the four livestreamed concerts as score supervisor, instructing the video director and photographer on what happens next in the music.
Each concert takes several hours of preparation, reading through and marking up each piece of music thoroughly. In some cases, I have my own copies of the scores, or in case of public domain works I get spiral-bound copies from Berwaldhallen's music library. But in other cases, I have to return the scores after the concert – which means of course I have to remove all of my notes as well.
This has turned into a kind of bittersweet ritual: on the one hand, it symbolises a job well done, but I also can't help but feel a little sad about the fact that what takes hours upon hours to prepare only takes minutes to undo. Ah well, life is fleeting after all, I suppose.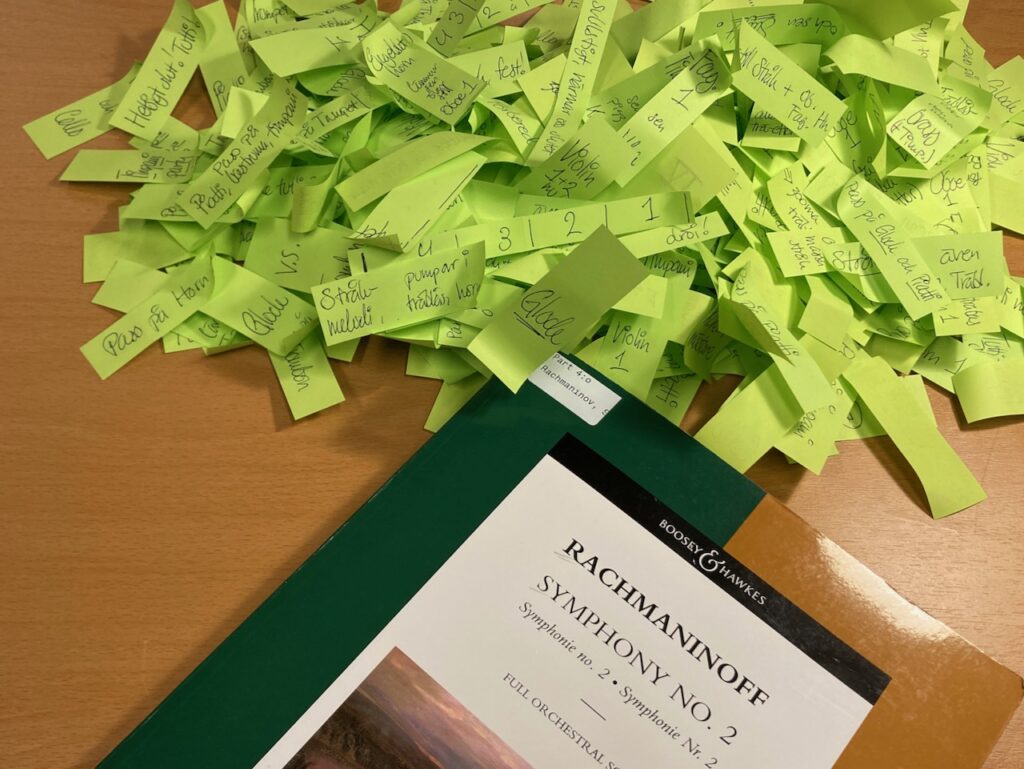 The marquee concert was a grand performance of a single work: Gustav Mahler's second symphony, known as the "Resurrection Symphony" because of its subject matter and tone. The concert featured not only the Swedish Radio Symphony Orchestra and Chorus but also the Eric Ericson Chamber Choir – another of Sweden's most prominent choruses – renowned soloists Miah Persson and Nina Stemme and conductor extraordinaire, Esa-Pekka Salonen. Salonen's involvement was doubly symbolic, as he was one of the initiators and founders of the festival and served as the orchestra's music director between 1984 and 1995.
Malin Broman, the orchestra's current concertmaster, led the festival's inaugural concert together with Finnish violinist Pekka Kuusisto, pianist Simon Crawford-Phillips and a handful of members from the orchestra in what I would call a rather bold choice on Berwaldhallen's part for a festival opener: a chamber music concert. The programme was far from lacking, opening with a fairly recent double concerto by Andrea Tarrodi and closing with Johann Sebastian Bach's third Brandenburg Concerto. Malin and Pekka, to whom Tarrodi had dedicated her double concerto Acanthes, imbued every minute of the work with intent and excitement and impressed the same dedication in their colleagues on stage.
As for Bach, "exciting" might not be the first word that his Brandenburg Concertos bring to mind. But once again, Malin Broman and Pekka Kuusisto lead their colleagues by example in a frolicking, spirited performance that I would argue defies preconceptions of so-called classical music simply by showing that playing it – and by extension listening to it – is fun.
Two more concerts were livestreamed. One of them featured both the Swedish Radio Symphony Orchestra and Chorus in a Scandinavian premiere of Swedish composer Karin Rehnqvist's self-described "climate oratorio" Silent Earth with poems by Kerstin Perski. That same concert also featured Sergei Rachmaninoff's second symphony and the Cherubic Hymn from Pyotr Tchaikovsky's Liturgy of St. John Chrysostom.
On the festival's penultimate day, the Swedish Radio Choir and their current music director, Kaspars Putniņš, had Berwaldhallen's stage to themselves with a programme headlined "A Paean to Love". It was a real showpiece concert where the choir and conductor showed off their ability to tackle really difficult and complex pieces in a programme aimed squarely, I would argue, at choral connoisseurs.
All four concerts are available to watch for free online at Berwaldhallen Play for 30 days after their original broadcast date. Malin and Pekka's concert, for example, is available until midnight September 24th CEST. A Paean to Love is available the longest, until midnight October 2nd CET.
I really cannot urge you strongly enough to take the opportunity to enjoy these wonderful and varied concerts while you can. You can find them all at Berwaldhallen Play. Several more concerts this autumn are scheduled for livestreaming as well, so bookmark the page for easy access.
This blog post, which ended up as perhaps my longest post yet (!), follows an unannounced dry spell. I will actually go quiet again for the coming two weeks as I am actually off work this week as well as the next. There is plenty of exciting news to talk about when I return, however. Those who wait, and all that.