Yesterday evening I had the great pleasure of hearing the brilliant Trio Nastela in concert in Härnösand. The trio's well-balanced programme included music by Classical and Romantic composers as well as by two contemporary Swedish composers.
Three amazing musicians make up the trio: bassoonist Sebastian Stevensson, whom I of course know rather well; oboist Emmanuel Laville, current principal oboist in the Swedish Radio Symphony Orchestra; and Asuka Nakamura, a regular duet partner of Sebastian's who I hadn't heard perform before.
Superficially, the concert's headline "Modernt och omodernt" (translating approximately as "fashionable and outdated") felt somewhat inane to me, as it says very little about the programme itself apart from it containing both newer and older works. However, I discovered hidden depths in the way the concert was put together that gave the headline more meaning and made me revaluate it.
For instance, the first half included one trio each by Joseph Haydn (specifically XV:16 in D major) and Ludwig van Beethoven, both written seven years apart during the 1790s. Those two pieces themselves portray the headline's dichotomy: two composers – one a seasoned master with years of training and hundreds of works to his name, the other a young and ambitious upstart with a will to forge his own path – in the same decade, writing music that is formally similar but very different if you listen a little closer.
Haydn, it should be noted, was himself an inventive and trailblazing composer who is for instance remembered as the father of the symphony and of the string quartet. In this case, however, he represents the pinnacle of the Classical era – not quite outdated, but still – whereas Beethoven is, a harbinger of the unbridled, swelling Romantic era.
Representing the outwardly modern half of the programme were Swedish composers Anders Eliasson and Maria Lithell Flyg. Eliasson was featured with two duets: Abendlicht for oboe and piano, and Wellen for bassoon and piano. Lithell Flyg, who is apparently a good friend of the oboist Emmanuel Laville, had written a short piece for the trio a few years back: Bagatelle Emmanuel.
On at least some occasions, Anders Eliasson seems to have felt like an outcast in the sometimes religiously strict modernist musical circles of the 20th century. As a counterpoint to that impression, however, I was told the other day that Eliasson and a few others used to speak condescendingly about the massively popular and influential Swedish composer Sven-David Sandström.
Sandström started out as a hardcore avant-gardist, but fairly early in his career made a stylistic U-turn toward a more pluralistic aesthetic with "traditional" melodies and harmonies combined with modern ideas. I have heard several times before about this fallout between Sandström and the most steadfast of the Swedish modernists, as Sandström's stylistic development appears to have come across as a kind of betrayal. (To be perfectly honest, however, I cannot help but feel like their reaction must have had at least a twinge of jealousy as well.)
Incidentally, Eliasson's two duos both had a distinctly romantic sheen. Wellen – "waves" – quite literally evoked images of waves crashing onto the shore in what I can only describe as a kind of latter-day tone painting.
Maria Lithell Flyg is quite an interesting composer. She got started as a singer-songwriter in the early 2000s – incidentally, at the same time as Anders Eliasson wrote the two duos – with ambitions beyond simple tetrachords and typical pop trappings. On her 2001 album "Thirst", the drum kit, keys, electric bass and guitar are coupled with violin, cello and bassoon. With each new album, these crossover elements increased in scope and size, signalling what was to come; in 2014, Maria received her Master's degree in composition from the Royal College of Music in Stockholm where she had studied under Professor Karin Rehnqvist.
Trio Nastela's concert ended on a grand scale with Mikhail Glinka's Trio pathétique. Composed when the then-28-year-old composer was in Milano, Glinka himself played the piano in the trio's first performance. The slightly odd original instrumentation – clarinet, bassoon and piano – and the fact that he himself took part in the premiere makes me think that he wrote the piece for himself and two acquaintances he made in Milano.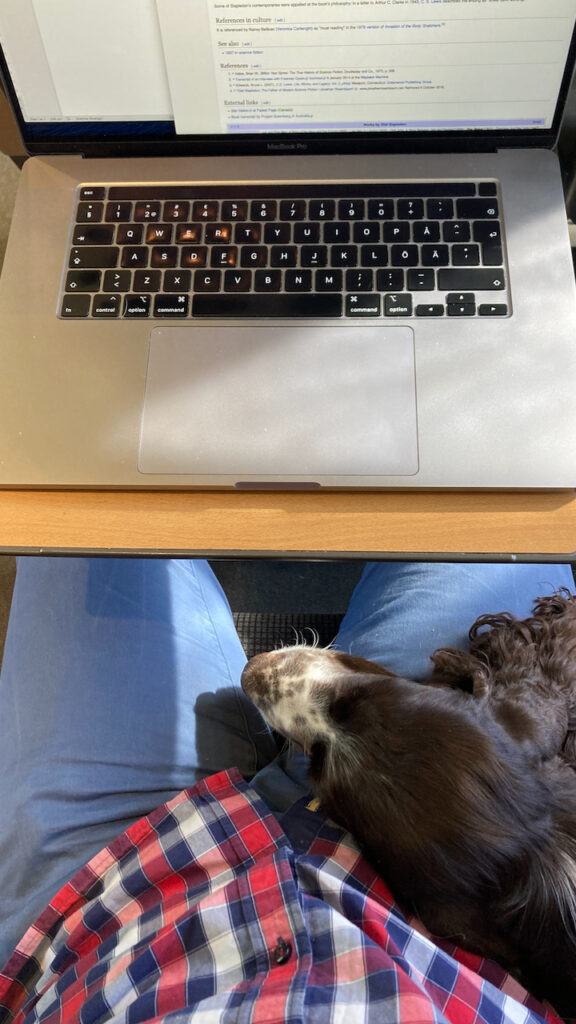 Legend has it that Glinka wrote the trio inspired by unrequited love, a sad story the clearest evidence of which being a quote in French on the original manuscript: "Je n'ai connu l'amour que par les peines qu'il cause." I do not know love, but for the pain it brings.
One of the most memorable parts of yesterday's concert was the collaborative and attentive musicianship between the three players and their empathetic performances, which on a few occasions looked almost like a dance; at least between Sebastian and Emmanuel as they were quite a bit more mobile than Asuka. Still, she was also quite mesmerizing to watch, playing with equal amounts of control and finesse in the modern as well as the classical pieces and being every bit a part of the collective as the two boys.
A couple of memorable page turns (sic!) during the evening will also stick with me: Sebastian throwing his right hand out like a viper, ripping a loose page from the note stand in the middle of Eliasson; Asuka deftly, as if it was part of the performance, flicking a couple of pages back for a repeated section in Beethoven. Clearly, all three musicians had a blast, and so did the audience.