The so-called parody mass is quite an interesting concept. It developed and blossomed in European sacred music in the 16th century by way of prominent composers like Josquin des Prez and Giovanni Pierluigi da Palestrina.
Parody technique was one of several different compositional techniques used for mass compositions during the Renaissance. A similar but different technique is the paraphrase mass, where a pre-existing melody – a so-called "cantus firmus" – is used as the principal musical material for the new mass setting. Paraphrase masses typically borrowed cantus firmi from the plainsong repertoire or from existing sacred music.
Parody masses, on the other hand, use multiple voices of a pre-existing piece of music, such as a fragment or a section of a motet, another mass or even a secular composition like a chanson. This last aspect of parody masses is one of the most interesting to me, particularly in a contemporary context. It goes firmly against this rigid and elitist perspective on what is or isn't appropriate in typically high-brow, intellectual environments.
Would you be taken seriously if you composed a complete mass setting based on, say, a selection of songs from Harry Styles' album Fine Line, Nobuo Uematsu's expansive soundtrack to Final Fantasy VII, the ASMR-adjacent crooning of Billie Eilish, or perhaps – for a more seasonally appropriate option – Johann Sebastian Bach's Christmas Oratorio?
Out of those four options, I feel like the last one would be least likely to raise critical or derogatory comments, but I'm not entirely sure. A sacrosanct work like Bach's Christmas Oratorio might be considered off-limits by some. However, it is actually a parody work itself! Bach reused significant parts works Bach himself had composed earlier – secular works at that, originally written in the honour of local nobility or other persons of renown.
Take for instance the famous opening chorus of the first cantata: Jauchzet, frohlocket! Rather than being an original composition, Bach repurposed music from a cantata he composed one year earlier for the birthday of Maria Josepha, queen of Poland and the wife of Bach's sovereign, king Augustus III. The original chorus begins with the lyrics "Tönet, ihr Pauken! Erschallet, Trompeten" which fit neatly on top of the corresponding Christmas oratorio lyrics "Jauchzet, frohlocket! Auf, preiset die Tage". Even the melismas are identical!
Bach's Christmas Oratorio (written in 1734, long past the Renaissance) is regarded as a particularly well-executed parody composition, not least because of how well the new lyrics slot into the existing music. Also, both the old and the new music share vocal and, from what I can tell, instrumental requirements.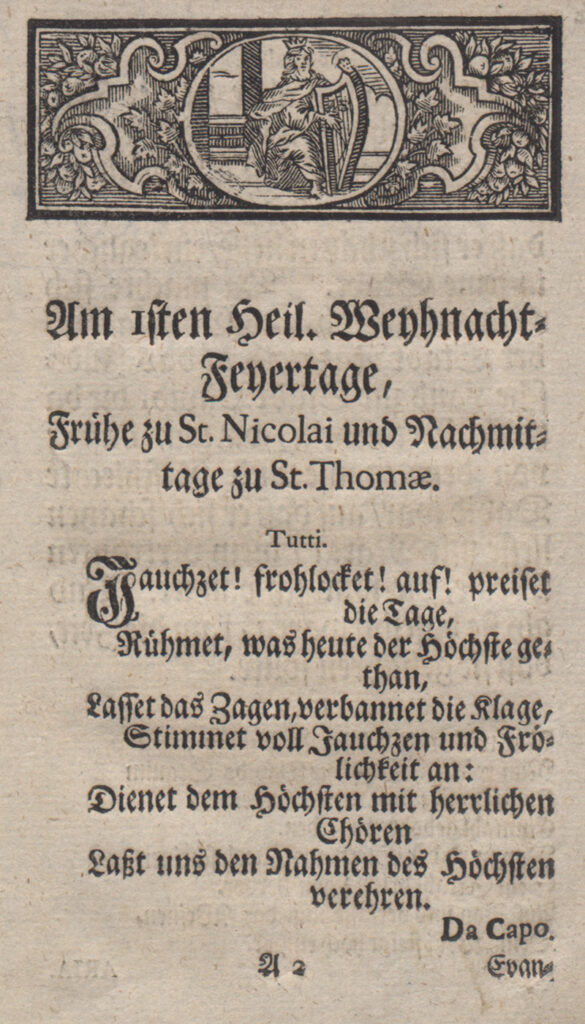 Composing a 'Harry Styles' mass, for example, for four-part chorus and pipe organ would entail a lot of new additions and, most likely, also a handful of changes to the existing music. The more we change, the further away we move from parody technique, as that method implies transplanting the original music like Bach did, for example. Nevertheless, writing a contemporary parody – or perhaps more correctly in this case, paraphrase – work like this is a very exciting idea to me that I think would help get more people interested in joining secular as well as church choirs.
I've written in several earlier blog posts about the inherent difficulties (some would go so far as to say 'problems') with crossover projects. An endeavour like this modern paraphrase/parody mass requires, in my opinion, the executor to be sufficiently familiar with and respectful of each musical tradition involved to avoid ending up with an embarrassing failure. Of course, that could happen anyway, but I argue – and I think you'll agree – that the risk is lower the better prepared you are.
Consider the gauntlet thrown. The only question is: Who wants to pick it up? (Or, for that matter: is this already happening, and I just don't know about it? If that is the case, please enlighten me, dear reader!)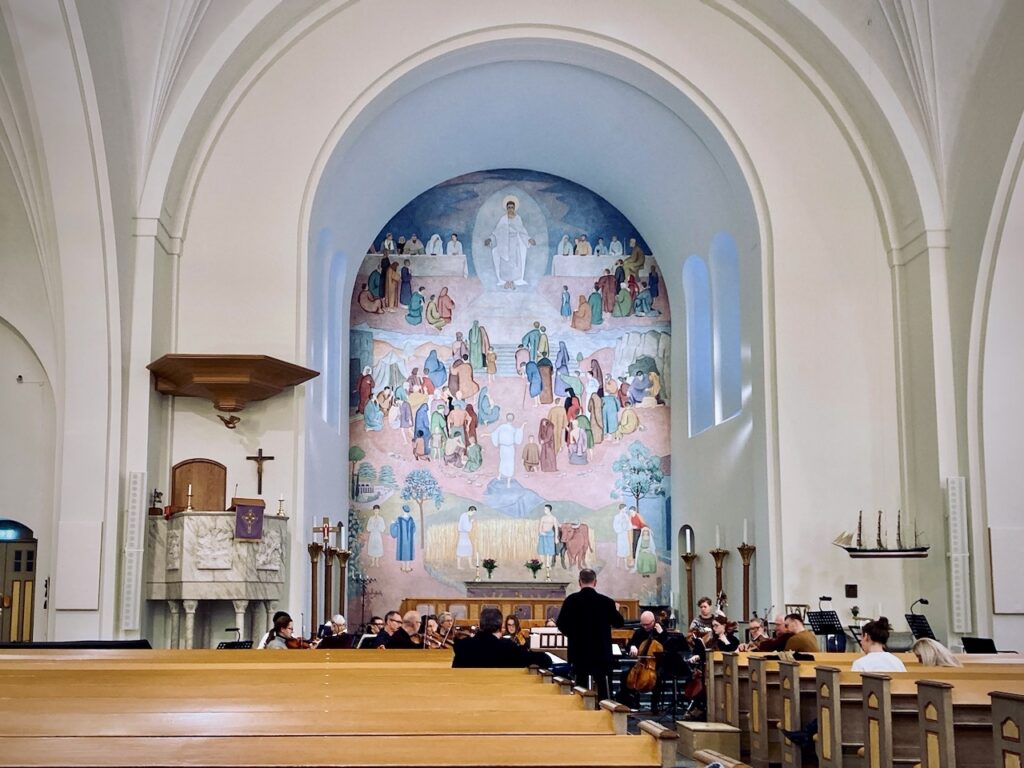 I had the great pleasure of singing the first three parts of Bach's Christmas Oratorio last weekend, first in Örnsköldsvik Church on Saturday and then in Härnösand Cathedral the day after. Professor Erik Westberg conducted the twenty-something strong orchestra, soloists and the Cathedral Choir and Örnsköldsvik Motet Choir.
I had gotten to know Erik back when I studied music composition in Piteå, where he holds a professorship in musical performance. It has been several years since I sang under Erik's leadership, and it was simply delightful to get to do so again.
Erik has called me up every now and then over the past few years about last-minute engagements, subbing in for concerts with his renowned vocal ensemble. However, I have consistently – comically even – been engaged in some other project that I could neither cancel nor reschedule. Oh well, there is still time…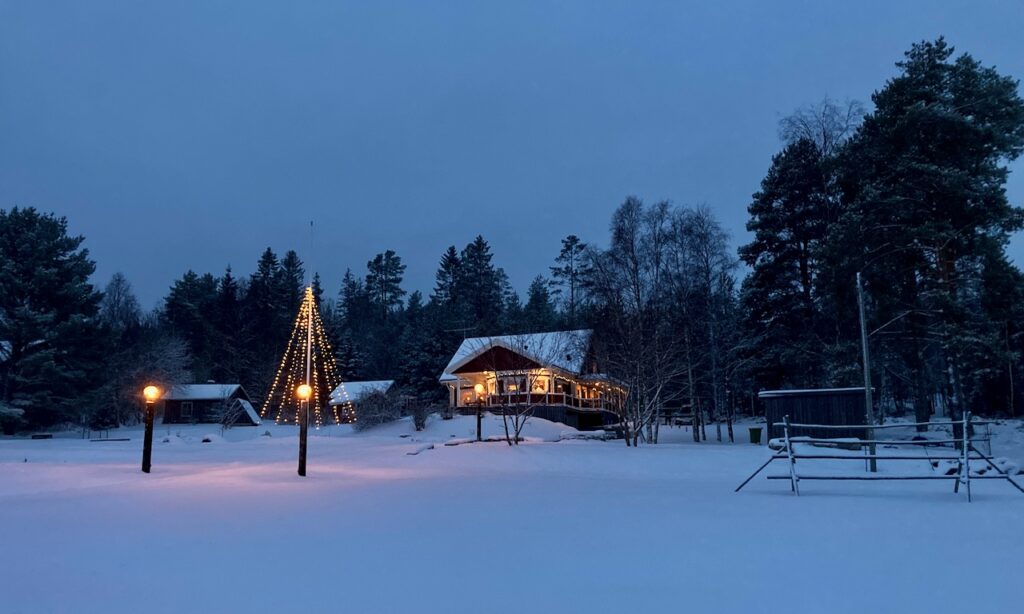 I am writing this post on the morning train to Stockholm, primarily to work on tomorrow's broadcast of Berwaldhallen's Christmas Concert which you can watch live on Berwaldhallen Play starting at 8:30pm CET. The programme features classics such as Marco Enrico Bossi's Cantate Domino, Max Reger's Mariæ Wiegenlied and Gustaf Nordqvist's Jul, jul, strålande jul as well as orchestral crackers like Swedish-American (!) composer Leroy Anderson's suite A Christmas Festival and Wilhelm Stenhammar's festive rhapsody Midvinter.
For even more excellently performed Christmas classics, let me direct you to this concert recording of none other than the Erik Westberg Vocal Ensemble with nyckelharpist Torbjörn Näsbom, accordionist David Wahlén and organist Aaron Sunstein. Last December they performed an entire programme of Swedish Christmas music that was broadcast all over the EU, as well as on Swedish Radio P2, where it is still available for your enjoyment.
With this veritable smörgåsbord of festive music, I wish you, dear reader, a very merry Christmas! I will see you again next week for the last update of the year 2022. (Has it really been a year already since my last end-of-year blog post? Surely that can't be right…)