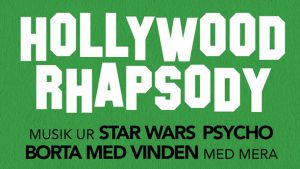 Last week was very exciting! I've been busy preparing for this year's first big stage appearance, as a presenter at Berwaldhallen, the home venue of the Swedish Radio Symphony Orchestra. Last Thursday and Friday they played music from the golden age of Hollywood, featuring composers such as Alfred Newman, Erich Wolfgang Korngold, Max Steiner and Franz Waxman. They were conducted by John Wilson famous for his tenure as the principal conductor of the RTÉ Concert Orchestra as well as for his own ensemble, the John Wilson Orchestra.
Working with Berwaldhallen, the SRSO and John Wilson was a genuine treat. I presented the concert, was interviewed along with John in the intermission and also held an introduction before the concert, talking about the birth of film and film music in the late 19th and early 20th century. It's a fascinating period with technological advancements coming hard and fast, particularly around the turn of the century.
Throughout February 2017, you can listen to the entire concert on the web: at the Swedish Radio's website, in their mobile app or simply using the widget here in this post.
Obviously, all of the narration is in Swedish except for the short interview with John Wilson but if nothing else it's worth listening to for the brilliant music, performed excellently by the Swedish Radio Symphony Orchestra. Here is the complete programme (including the encore):
Intermission