I have the great pleasure of getting to perform twice this summer (at least!), both times in late July. It is hard to rate the two concerts, as they are very different, but nevertheless I particularly look forward to premiering a brand new composition together with the lovely bassoonist extraordinaire, Sebastian Stevensson.
Long-time readers of my blog already know my history with Sebastian, in the form of my Sonata for Bassoon and Piano, which he premiered two years ago together with pianist Henrik Berg. Last year, they performed it as well as a selection of pieces by French composers like Charles Koechlin and Maurice Ravel, in Sundsvall. At the same concert, I also performed two of my own art songs together with Henrik, both settings of beautiful poems by Tomas Tranströmer.
This summer, the three of us will be performing in Härnösand Cathedral on July 26th. Returning pieces from last year will be the two sonatas by myself and Charles Koechlin respectively, and my two art songs. New additions to the programme are piano pieces by Francis Poulenc and Claude Debussy as well as the premiere performance of a brand new duet for voice and bassoon that I finished last week!
A few months ago, I pitched the idea to Sebastian to write something for him and me to perform together. I think his musicianship is absolutely first-class, not only technically but also in the way he treats phrases musically; it's kind of like he makes the bassoon sing. I essentially wanted an opportunity to get to perform with him, myself, and took the matter literally into my own hands. Fortunately, he was game right away.
Then, back in mid-April, I watched this interview clip from The Late Show with actor Steven Yeun, who at the time was doing the rounds because of his leading role in the acclaimed miniseries Beef. Towards the end of the clip, host Steven Colbert asks Yeun about his character in the series joining a church band. Yeun talks about going to church when he was young, and even playing guitar in the church band, that he doesn't go regularly anymore but that he still has a Bible verse that's stuck with him since sixth grade:
Do not conform to the pattern of this world, but be transformed by the renewing of your mind. Then you will be able to test and approve what God's will is – his good, pleasing and perfect will.

The Holy Bible, Romans 12:2 NIV
The quote comes from the Epistle to the Romans and in the wider context essentially means "don't stick to your old faiths, come follow Jesus Christ instead – renew your mind!". In fact, Steven Yeun goes on to describe how he as a child was taught the quote as to say "don't do secular things, just do Christian things" which honestly isn't far from the original context. However, Yeun says that even back then he felt that the quote, isolated like that, says something else entirely and has, in his own words, been "unpacking it [the quote] ever since".
As I mulled over that quote, both in context (after reading up on Romans and Paul the Apostle) and in isolation, I was attracted to its challenging, almost transgressive stance.
A seed was planted.
Meanwhile, I had started to explore a book with the collected works of early 20th century Swedish poet Karin Boye with the intention of setting some of her poems to music. I also read about Boye's tumultuous relationship with Christianity and church, centered to a large degree around her homosexuality.
The seed was nourished and started to grow.
I found a poem of Boye's, or rather a part of a longer poem, that fit thematically in a nice way with the Romans quote. Boye describes in a beautiful way how humanity walks together through the generations, "prophet next to prophet", with each of us on our own still carrying the burden of our souls as "a rock, through the dome of time".
I felt that Boye's evocative description of the human struggle (which itself seems to have been inspired by an actual altarpiece in a Swedish church) became even stronger when paired with the Romans quote. Out of this rich lyrical soil grew a five-minute duet that I am very excited to get to premiere with Sebastian this summer.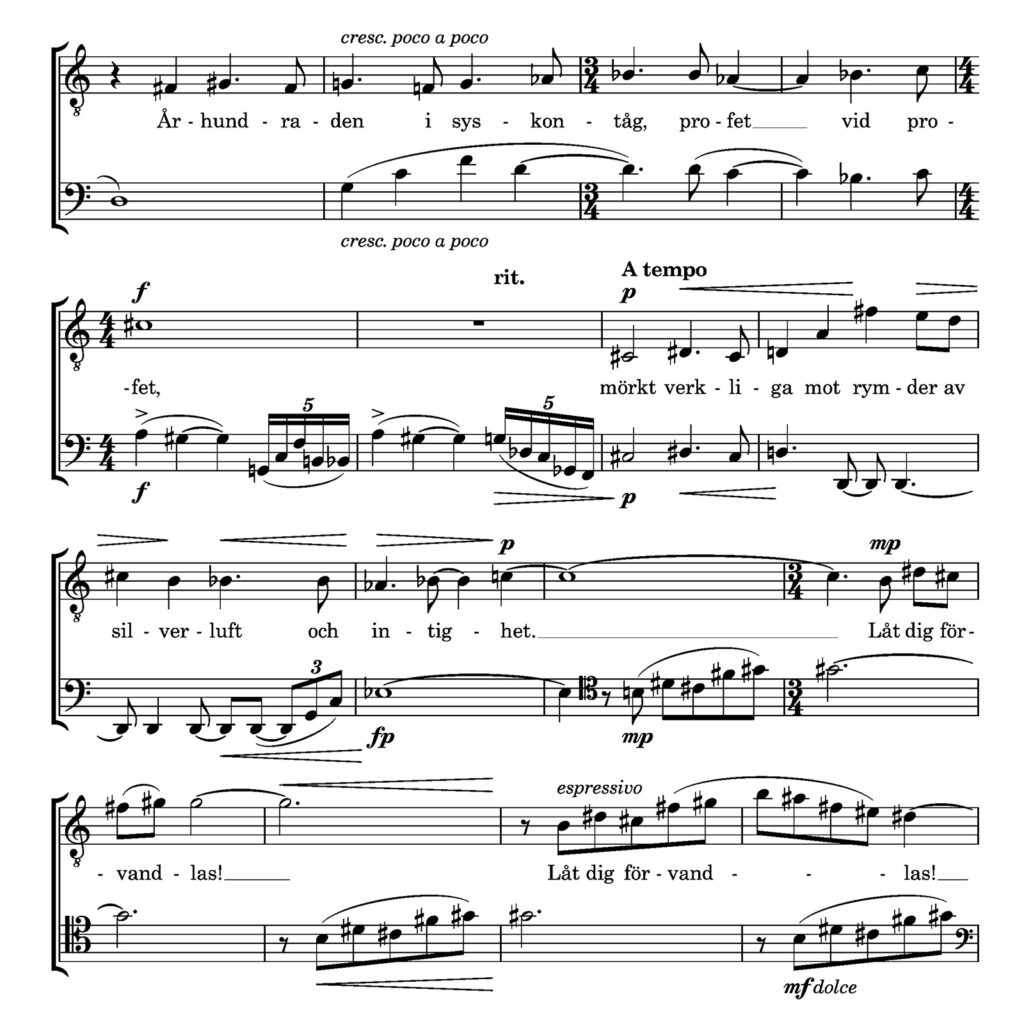 In writing the piece, I wanted the bassoonist and the singer to be essentially equal duet partners, rather than for instance one only being an accompanist to the other. For most of the piece, I believe I got this balance right. There are a few times during the piece when the bassoon has more of a passive role, but even that is the exception to the rule. The singer also regularly gives space for the bassoonist to share the lead.
Musically, I explore the extended ranges of both the bassoon and the voice (specifically, my voice). Just looking at the 16 bars in the example above (out of a total of 100 bars making up the whole piece) is a pretty good illustration. The bassoon goes as far up as G#4 and as low as D2, and the tenor from C#3 to B4 (the tenor's highest note in the piece, which returns once more towards the very end of the piece in a jubilant fortissimo).
Additionally, I wanted to use the fact that both the timbre and the range of the bassoon is so close to my voice. Therefore, I recurringly write intertwining passages, or tight, dissonant intervals that I hope will come close to the sound of a single voice creating beautiful dissonances with itself, that are also resolved beautifully.
Textually, I have interwoven Karin Boye's poem with words of my own, based on the quote from Romans 12. Simply including the Bible quote verbatim wouldn't have worked as a logical whole, so a little editorial freedom was necessary. In the end, I am quite happy and proud of the end result, both musically and thematically. The seed has grown into a little tree, and I hope that it will get to continue to grow.
Ultimately, it is up to each one of us to keep renewing our minds, to look with inquisitive curiosity at the world and allow ourselves to be amazed by what we see. Offering, as it says in Romans 12:1 right before the quote above, our "bodies as a living sacrifice, holy and pleasing to God" can be different things to different people.
Personally, I believe that all of us, irrespective of faith or denomination, as parts of this world have the opportunity – or, dare I say, the responsibility – to use whatever power or possibility each of us has to realise the potential in ourselves as well as those around us. Sometimes, that means writing music for yourself and your friends. Other times, it might simply mean preparing food for your dog that is a bit more than just a scoop of kibble.