I have been too busy these past days to update the blog, but at the time of writing, Thursday afternoon, I am beginning to get back on top of things and want to take a few moments to muse on the experience of performing in Härnösand Cathedral last Sunday.
I went to High School in Stockholm (upper secondary school) at a gymnasium that offers a special, music-focused programme. There, I took voice lessons every week, and performed in various ensembles, as well as the school's chamber choir, which even toured internationally as well as giving performances both at school and at high-profile venues around Stockholm.
In other words, even back in my teenage years, I wanted to be a professional singer. Meanwhile, I was trying my hand at composing and arranging at home in my spare time, even getting the opportunity to write music for a really ambitious freeware game. But my musical career path at that time, to the point that I thought about that at all, was focused on singing.
Later on, when I applied to study music composition at college, my priorities had shifted. While I don't regret this decision, per se, I have had periods of doubt over the years. And even though I majored in composition, I also kept taking voice lessons, occasionally even performing together with the voice majors in concerts or staged productions.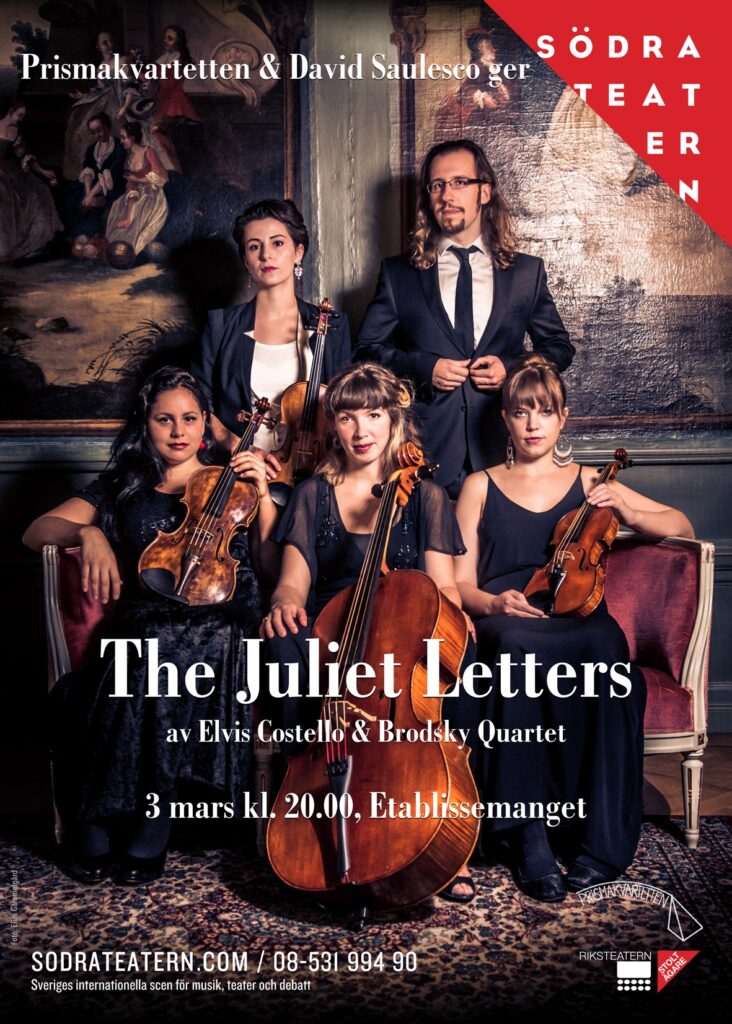 During as well as after college, I have kept on performing in all kinds of occations, from weddings, funerals, baptisms and parties to solo parts in oratorios and cantas and giving solo recitals.
One of the most fun projects so far in my singing career has been a staged version of Elvis Costello and the Brodsky Quartet's fantastic song cycle The Juliet Letters. The performance was not entirely dissimilar to contemporary jukebox musicals – and, for that matter, drew on a tradition going at least back to English ballad operas.
I drew up a storyline based on the lyrics in the songs themselves, changed up the order, even cut one of the songs out (because it didn't fit into my story), and we ended up with a rather intense tale of a man reluctantly coming to terms with a terrible incident he has tried – and failed – to ignore for years.
Last Sunday's concert was, I think, the first time since then that I have felt like a "real singer". Not just like a composer, or a jack-of-all-trades who also can sing, but an actual professional singer.
This of course is not to say that I haven't given any performances since; far from it. In fact, back in October I gave a concert with my dear and talented friend Nina on the theme of death and life that turned out great, much like last Sunday, and was also very well received.
I think that an important part of why I feel this way now is simply that singing almost a half hour of non-stop Dvořák is hard. But it is also very rewarding, especially after having studied and worked on them off and on over a period of months, culminating in an intensive couple of weeks where they more or less landed. This is the first time that I have learned and performed a complete song cycle like this. I have performed selections from Vaughan Williams' Songs of Travel, Schumann's Dichterliebe, Schubert's Winterreise and others, but never before a complete cycle.
Well, it most certainly will not be the last time.
Finally, the best part: David Saulesco's vocal performance. […] He once again proves that he is a brave singer, though not by bravely ascending to the highest notes, but rather through courageous restraint in an effort to convey many nuances of emotion.

Grzegorz Flakierski, Tidningen Ångermanland 02/2/22
The newspaper review certainly did not dissuade me. Nor did the gentleman in the audience who, after the concert, came up to me (not too close though; the pandemic is not over, after all) and asked me with a glint in his eye if I would follow this up with Winterreise.
Don't tempt me.
After all, now I am a real singer.